How We Work
The process of how FasTop Bike manufacture carbon fiber bike rims/wheels is really a spectacular one. From preparing raw materials to the molding process,to building,inspecting and finishing is an exciting journey that involves many hard working until the final carbon wheelset are presented to our clients. Now you'll find our Manufacturing&Testing section which explains our manufacturing and shows the process.
1. Carbon Material Preparation and Cutting
At FasTop Bike we use Toray T700 full carbon fiber for the majority of the aero rim structure because of its multiple densities and tensile strengths, and use special basalt carbon on the braking surface as this material provides for better braking performance and durability under the rigors of extreme stops. Each carbon fiber piece is precision cut to the exact specifications of the carbon rims it will become.
2. Carbon Fiber Layup(Pre-moulding)
Each FasTop Bike rim is constructed of several different carbon layers laid along different angles and patterns to make one sound resilient unit. This unique design makes up a core pattern that makes the carbon rims strong and durable.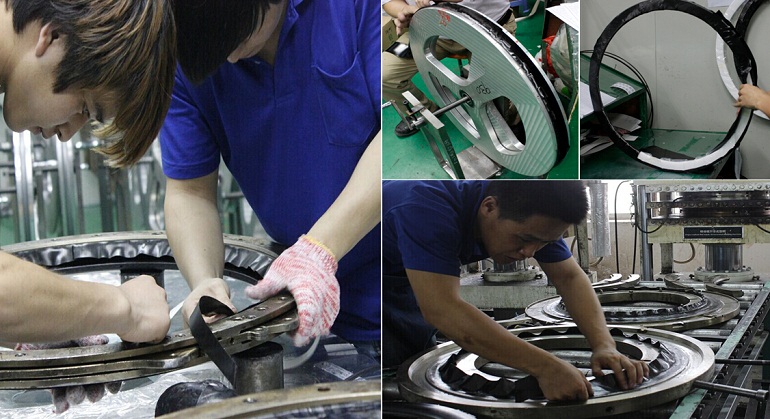 3. Layup Moulding
The basalt braking surface or surface layer of carbon rims is placed into the mould first and then the full layup is put into the mould. Normally, it will be cured at high temperature(150 degree) for 45 minutes to make the layup a virtually indestructible carbon rims.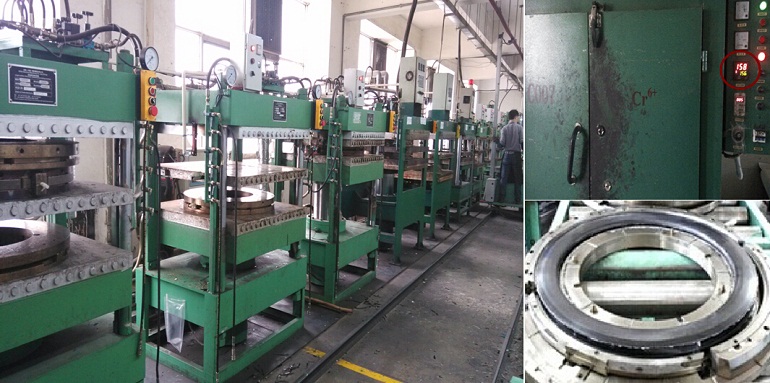 4. QC 1st-Inspection of Roundness,Weight
At FasTop Bike we feel the inspection process just as important as the manufacturing procedures used to make our high-end product. After removal from the mold, each carbon fiber rim is thoroughly inspected for roundness, lateral measurements, and weight to make sure the unit is exactly to specification.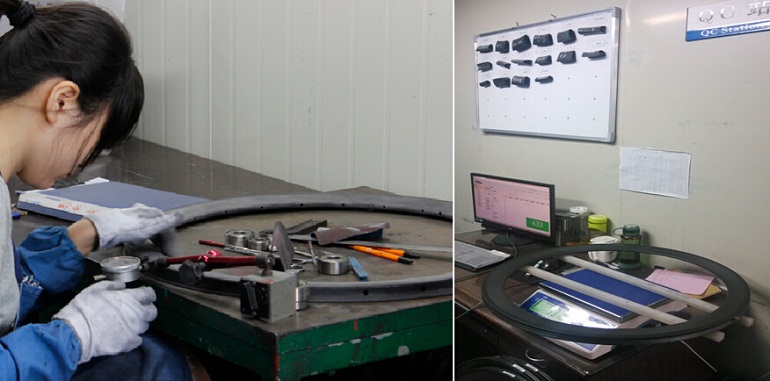 5. Spoke Hole Drilling
This process part is client-centric, we use quite precise drilling machines to locate and place the spoke holes to the exact position and angle, and the spoke hole count is according to the customer's request.

6. Trimming, Polishing(Dry Polishing & Wet Polishing) and Cleaning
There are a few natural defects and burring that occurs from the molding and drilling process, so we do trimming,polishing and cleaning to remove them from the rims. The cleaning and smoothing of our rims is one of the most time consuming process because of our attention to details in making sure to deliver a delicate carbon rim/wheelset to our clients.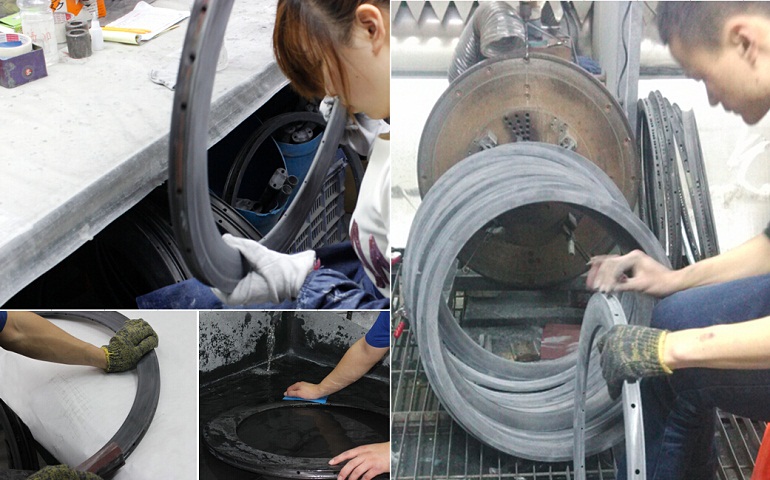 7. QC 2nd-Inspection of overall surface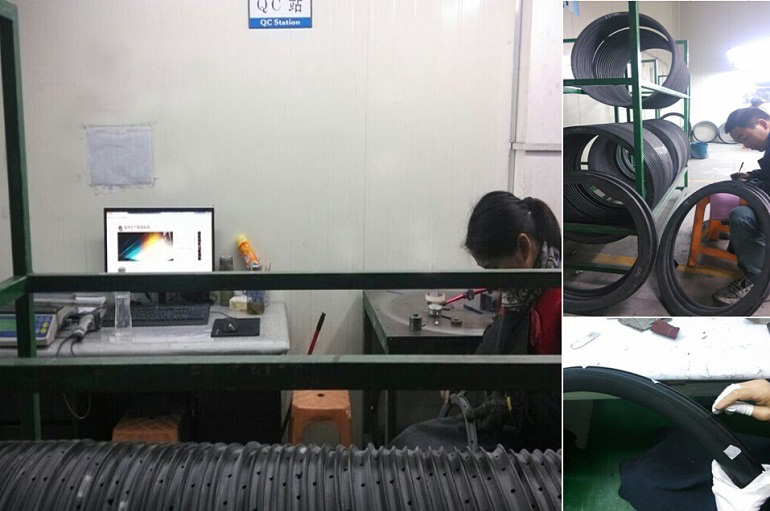 8. Basalt brake sticking/ Rims Painting/Decaling
After the carbon rims are smoothed, a thick lacquer will be coated on the out layer fiber of the rims, which not only provides shine, but also creates a barrier of protection against rocks, chips, and inclement weather,and as per customer's request,we can paint and decal custom logo/brand on the rims.


9. QC 3rd-Inspection of whole finished rim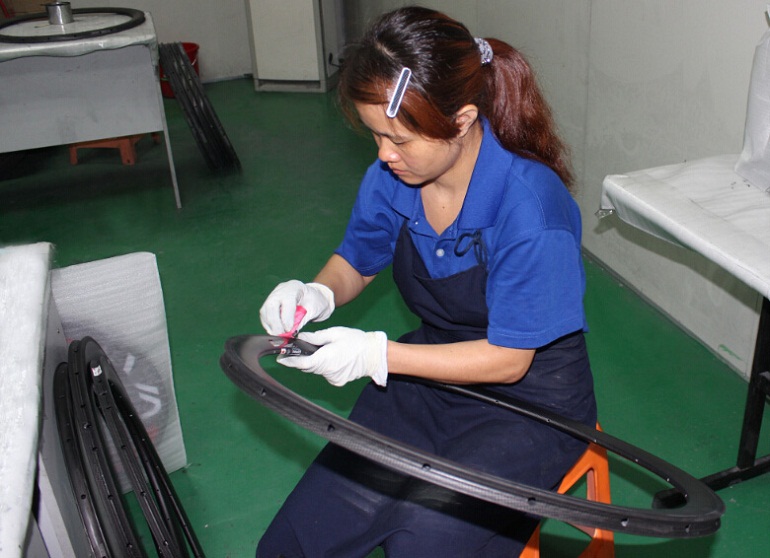 10. Wheels Building and Testing
Building the wheels is optional manufacturing process and involves lacing the spokes to the rim and adjusting the tension to adequate levels. Each spoke is installed one-by-one and tightened to the proper torque. We apply the spoke holes tension test, braking surface test and lateral torsion testing on the carbon bicycle wheels to improve their braking performance and make sure that they are strong enough to safe riding and cycling.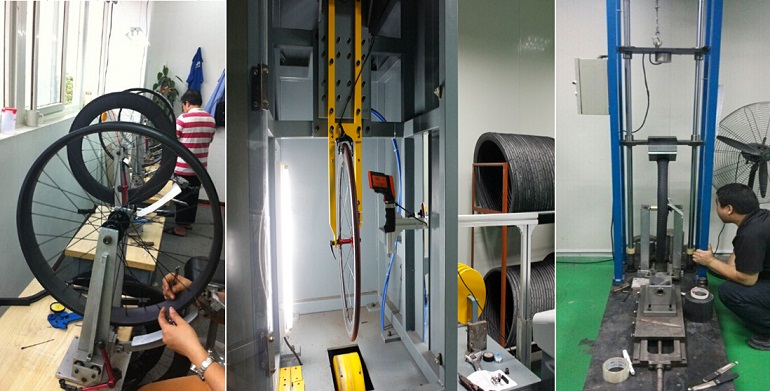 11. QC 4th-Final Inspection,Packing and Shipment
After all steps above, the carbon bike wheels are completed. Then they will be packaged carefully and sent to our customers through our decent courier.